Organize Your Manufacturing Facility
Successful manufacturing requires stream-lined workflow and a well designed storage system is a critical element in overall production performance. Efficient raw goods and finished goods storage is a key component to a productive manufacturing facility. More than just inventory, convenient equipment and tool storage helps control costs and maximizes space, leaving employees to build products, retrieve boxes and be productive. Efficient storage is a key component of Lean manufacturing.
Store Smart & Save Money
E-Z-Rect shelving systems reduce costs in two ways: increasing productivity and decreasing space requirements. By creating a customized, rugged shelving system using the multi-purpose Type 1 shelving, E-Z-Rect can maximize your floor space.
Type 1 Capacity
E-Z-Rect Type 1 shelving is multipurpose shelving and is designed for commercial manufacturing facilities requiring hand load storage systems.
Benefits of Type 1 Boltless Shelving
Unlike traditional pallet racking and warehouse shelving, E-Z-Rect Type 1 shelving is adaptable to any warehousing and processing facility's needs and can be re-adapted to changing workspaces. When combined with multi-level shelving system, facilities can also maximize their vertical space.
Top strength
Installs around existing equipment
Integrates into existing shelving
Better organization
Increased ergonomics
Improved employee safety
Alternative to Warehouse Racking
Type 1 is the high quality, multi-purpose shelving system especially designed for hand-loading and can be a cost effective and adaptable alternative to traditional racking systems. In a manufacturing environment, warehouse racking and pallet racking systems are often thought of as the sole solution. E-Z-Rect multi-level systems provide a cost-effective way to increase usable storage space by going up while allowing tiers for multiple pickers.
E-Z-Rect Type 1 is designed for hand loading and is not recommended for use with fork lifts or other machinery. Where mechanized loading is required, the E-Z-Rect design team can build a customized solution for any manufacturing and warehousing needs using a variety of components and racking systems.
Storage For Employees
Employees need a safe space to store their clothes while at work. EZR Lockers and our warehouse locker solutions provide an economical and safe storage space for employees to store their belongings.
Facilitate Task Performance
Our industrial shelving systems improve task performance by:
Storing and managing key elements and components of production
Increasing accessibility and production speed
Preventing errors due to disorganized workflow
Multi-Level Storage
E-Z-Rect multi-level systems take storage to a new level. Multi-level shelving systems are built using the lighter duty Trim-line boltless shelving or our multi-purpose boltless Type 1 shelving for applications requiring high performance, strength and durability. Multi-level shelving systems can store all of your manufacturing components safely and securely, yet maintain ease of access and efficient production.
E-Z-Rect designs custom catwalk shelving systems and mezzanine shelving systems that add additional space above the floor. Whether for additional shelving units, additional work space or supervisory space, the catwalk and mezzanine systems increases the usable area.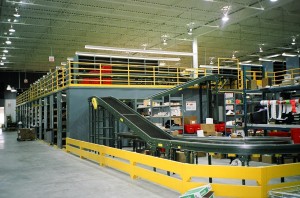 Mezzanine System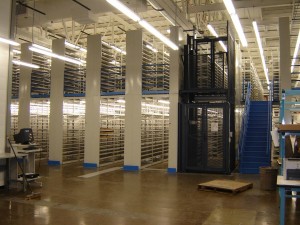 Catwalk System
Workbenches & Work Stations
An E-Z-Rect workbench or work station is ergonomically designed to organize tools and provide a convenient production surface. Workbenches and workstations can be used for a variety of purposes, including:
Shop workstation
Repair station
Packing station
Production and assembly station
Industrial and warehouse uses
Shipping and/or receiving desk
Maintenance and/or janitorial station
Inventory maintenance station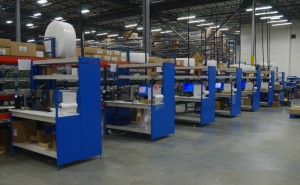 Workstation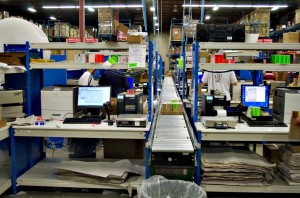 Packing station with Conveyor