Warehouse Shelving Systems for Productivity
Organization is the key to competitive warehouse. A systematic, practical shelving storage system that is designed around specific needs can increase productivity while reducing order cycle times. E-Z-Rect warehouse racking is the solution to storage challenges.
Employees and equipment must maneuver around inventory in order to complete daily tasks. A well laid out warehouse shelving solution from E-Z-Rect enables faster storage and retrieval and reduced aisle congestion. The E-Z-Rect Projects team has the experience to design warehouse shelving systems with Type-1 or Trimline waerhouse racking improving daily labour activities and equipment and speeding operations.
Storage Shelving vs. Expanding Premises
Avoid relocation or floorspace expansion by increasing warehouse storage density. Investing in high quality, multi-tier shelving systems increases capacity on an existing foot print with costs substantially lower than relocation or leasing additional space. A multi-level shelving system can double or triple your usable storage space while increasing usable racks and shelving.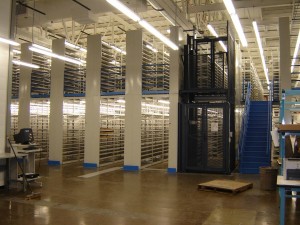 Catwalk Systems: An additional level of storage for the ultimate warehouse storage capacity within your building.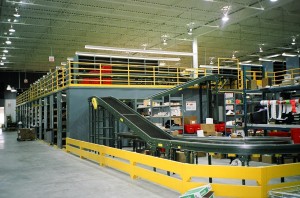 Mezzanine Systems: Additional platform above the shelving system creates workspace, office space, supervisor platform, or any purpose.
Multi-Level Shelving Solutions
Multi-level shelving systems are the best solution to increasing warehouse storage density. Constructed of multi-purpose Type 1 shelving, they provide a long lasting, rigid shelving solution for your distribution center or warehouse shelving and racking. The additional level can equipped with a multi-use platform or additional shelving bays for increased storage capacity.
Alternative to Traditional Warehouse Racking
Type 1 is the high quality, multi-purpose shelving system especially designed for hand-loading and can be a cost effective alternative to traditional warehouse racking systems. In a manufacturing environment, pallet racking systems are often thought of as the sole solution, but E-Z-Rect multi-level systems provide a cost-effective way to increase usable storage space by going up while allowing tiers for multiple pickers.
E-Z-Rect Type 1 is designed for hand loading and is not recommended for use with fork lifts or other machinery. Where mechanized loading is required, the E-Z-Rect design team can build a customized solution for any manufacturing and warehousing needs using a variety of shelving and racking systems.
Warehouse Shelving Design
E-Z-Rect system incorporates all aspects of the warehouse shelving solution, including:
Safety Considerations
Compliance to local building and storage codes
Seismic considerations
Integration with current building features (workstations, conveyor belts, etc.)
Engineering and CAD drawings
Architectural considerations