Secure Document Storage
E-Z-Rect record storage systems are customized to specific requirements of space, zoning, and access. E-Z-Rect shelving maximizes floor space while maintaining ease of access at an economical price.
Flexible Storage Options
E-Z-Rect Trim-Line is excellent for bin boxes, record boxes, computer printouts, binders, hanging files, stationary or any combination of storage items. This lighter duty shelving is adaptable to your changing needs, yet strong enough for use in both short and wide span shelving applications. It is versatile and can  be used for high-rise or multi-level shelving systems for bulk storage in large warehouses, as well as high-density mobile storage saving floor space. E-Z-Rect Trim-line efficiently stores archival records in single or double depths and is capable of heavier loads.
Unobstructed Access to Documents & Records
Trim-line and Type 1 shelving have no sway or cross braces, allowing for easy, unobstructed access of your records from either side of the storage system. Trim-Line options for record storage include roll-out reference shelves, finished side and back panels, and shelf dividers. All Trim-line shelving systems are fully adjustable on 1" centers to maximize the number of boxes stored. Document shelving solutions can be customized to any combination of width, depth and height to meet specific record storage needs.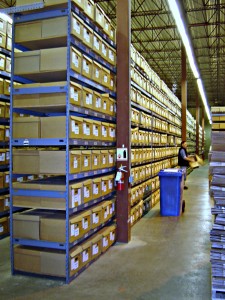 Mass Record Storage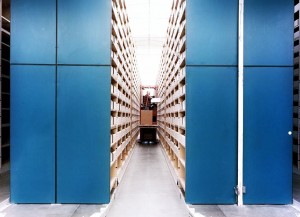 Document Storage
On-Site or Off-Site Storage
E-Z-Rect can design a custom, high-density document storage center. Multi-level shelving provides vertical tiers of shelves in order to maximize the vertical capacity of the space while maintaining the accessibility of documents. Mobile, or High Density Shelving, increases horizontal capacity by eliminating aisle space until needed. Trim-line shelving's flexible structure can be build around architectural and equipment obstacles to maximize available space.
High Density Storage
High density, mobile storage system can increase the onsite record keeping capacity without increasing floor space. Lawyers office storage, medical record storage, and accounting office storage are ideal applications that have known for years the benefits of E-Z-Rect. For heavy storage documents and file boxes, E-Z-Rect's mobile system can be equipped with a mechanical assist. The simple turn of a handle flawlessly moves shelves along the system, ensuring documents and records are accessible to all employees.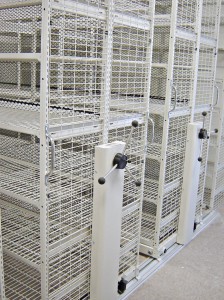 Mobile Shelving System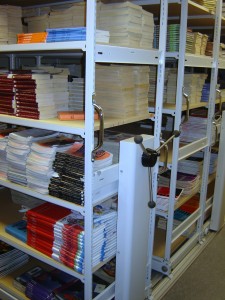 Handle allows system to move easily